SIC is an ISO Certified Coating Company

View Our ISO Certificate
Knowledge of ISO 9001:2015 Certification
The existence of the company's ISO manual and the adherence to known and accepted continuing quality requirements and practice frees customers from the burden of their own individual auditing efforts. Lead times for supplier evaluation and production can usually be significantly reduced.


DuPont Star Coater
As an innovator in the powder coating industry, Superior Industrial Coating is proud to be a member of the DuPont Star Coater program. We are dedicated to continuous improvement, learning, development, and staying ahead of the curve.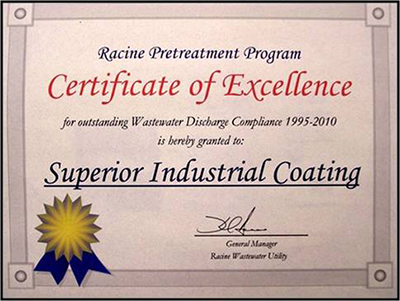 Committed to protecting our environment, SIC has received the Racine Pretreatment Program Certificate of Excellence for Outstanding Wastewater Discharge Compliance.