Quality in Coating
There are many factors that are needed for the production of high quality.  At SIC we go above and beyond in all aspects to obtain the highest level of quality possible.
QUALITY POLICY
Superior Industrial Coating, Inc. is committed to exceeding its customer's expectations by providing the necessary tools, training, and work environment, and feedback that promotes continual improvement and develops an employee's will to produce a superior product.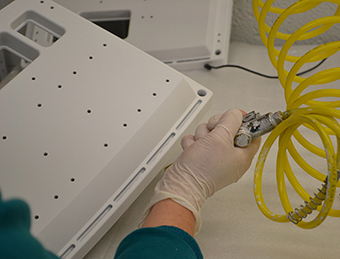 Commitment to Quality
Quality assurance has moved from production inspection to total management commitment and responsibility in all aspects of defect prevention. Our Quality Management System at SIC is continuously updated to meet the newest ISO requirements. Consistently updating its ISO, SIC is able to produce a unified approach among all operating departments.  This approach allows us more rapid and effective continuous process improvements for product design and production.
Electronic Reference
Every department has on-line access to the company's own ISO Manual and updated references. This new interactive and easily searchable company-wide electronic reference facilitates document controls and provides instant availability of updated data to all parties within our facility.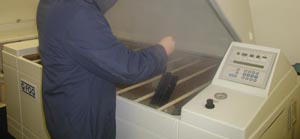 Quality Assurance Laboratory
At SIC we have a complete laboratory that is utilized for salt spraying, chemical testing, and more. This laboratory enables us to test our customers' products beyond their standards, as well as assist customers in the establishment of coating standards.
Defect Detection at the Earliest Point
Ongoing, plant-wide integration of QA programs at SIC is aimed at detecting and exerting corrective action continuously and at the earliest point. This includes pre-production capability studies; pre-production cost-reduction planning, preferably during the part design stages; incoming material QA monitoring; in-process monitoring and SPC to control the manufacturing process; and continuous quality improvement studies.
Auditing
As a company whose quality assurance system has been audited by Interteck, one of the world's largest independent registrars, SIC offers its customers throughout the world its adherence to known international quality standards--one of the strongest assurances of quality service available.
Continuous Training
Qualified, well-trained and motivated people are at the heart of any custom production system. SIC management has been committed to an ongoing, comprehensive and company-wide approach to assuring that its employees are equipped to excel.