Powder Coating
Consistent Quality With No Shrinkage
Priced Right
Quick Turn Around
One Stop Finishing
Powder Coating Quality And Consistency
You want an industrial powder coating company that delivers consistent quality. You don't want to worry that after a few good lots you're "due" for a bad one. You want to trust that every lot will be of the same high quality. That's why customers keep coming back to Superior Industrial Coating.
Powder Coating Without Shrinkage
At SIC we care for your parts as if they were our own. When you run a tight ship, shrinkage isn't a problem. We run a tight ship.
Powder Coating At The Right Price
You don't need to pay extra for high quality powder coating. We're in low-overhead Racine, Wisconsin, so you get a great price. Request a quote.
Powder Coating With Quick Turn Around
Yes, we can turn your order around very quickly. Our state of the art equipment and technology mean higher efficiency.
Powder Coating And More
Let us show you how to improve your bottom line and reduce your headaches with our complete finishing services. From prep to coating, to assembly and packaging, we are your One Stop Finishing Shop. Contact us today.
Powder Coating Wisconsin, Illinois, North America, Europe
Located in Racine, Wisconsin, we serve customers in Wisconsin and Illinois as well as throughout North America and Europe.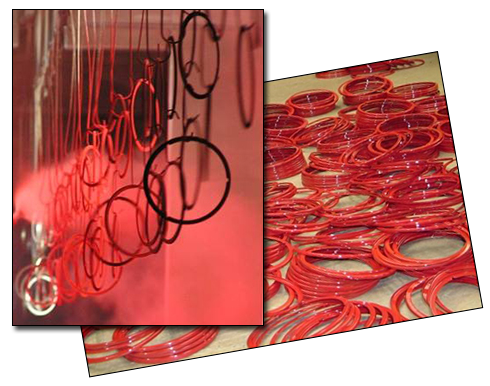 Innovative Powder Coating Solutions
Our six decades of powder coating experience has allowed us to perfect and utilize the most innovative powder coating solutions. At Superior Industrial Coating we utilize coatings that combine optimal corrosion protection, with a strong aesthetic appeal; innovative coating technologies such as UV-cure, NIR cure, acrylics, ultra-low baked, and thin film powder coatings. Powder coating was developed in the mid 1900s and SIC was one of the first powder coating companies in the midwest. The coating solutions we offer today are the most advanced available, meeting and exceeding industry standards and performance requirements. Turn to SIC for the most technologically advanced powder coating solutions.
Powder Coating Expertise
Superior Industrial Coating has the expertise to make your finished product truly superior. Our years of experience help us to anticipate and eliminate possible process problems before they happen. Our coating engineers stand ready to recommend the best coating solution for your application. Put our powder coating expertise to work for you.
Powder Coating For Your Industry
We provide powder coating solutions for your industry, whether it's Aerospace, Automotive & Transportation, Appliance, Architectural, Agricultural, Electronics & Computer, Furniture, Food Processing, Hardware, Industrial, Lawn & Garden, Lighting, Medical, Marine, Military, Sporting Goods, or any other.
We also do E-Coating and Wet Coating.